Jurassic World: Dominion Dominates Fandom Wikis - The Loop
Play Sound
Allison Larkin
Born

Early 1990s

Infected

Unknown

Physical description
Species
Gender

Female

Hair colour

Brown

Skin colour

Caucasian

Family information
Family members
Affiliation
Occupation

Student

Infector

Unknown

Television Portrayal
First appearance
Last appearance
Actor
.
"Free access to hundreds of attractions and museums around the country."
Allison is a nerdy young werewolf who hides away from civilisation during the full moon. She first appears in "Puppy Love". Allison is on the cast list for the final episode of Series 5.
Biography
[
]
Allison was a university student and enthusiastic debater infected with the werewolf curse while camping for the Duke of Edinburgh Award Scheme [1].
She was awarded a Blue Peter badge for her model of Tracey Island, which gives her access to hundreds of attractions and museums in Britain for free. She is very geeky and prefers museums to nightclubs and teashops to bars. She is a model student with almost perfect grades and has a wide academic knowledge. She is training to be a barrister, a personal favourite of Tom's which contributed to his attraction to her.
Discovering Cutler's online footage of Tom and George's videoed transformation provides her with an opportunity to run away from home and do something about her fears about her condition. Having found Tom based on various research, she initially encouraged Tom to talk to the vampires instead and persuade them to join forces with the werewolves and protect each other from exposure. Her debating skills prove inadequate when faced with the brutal ruthlessness of the vampires, and she suggests to Tom that she and he can learn from each other. Tom teaches her how to kill vampires, while she helps him with articulacy and debate (and the two speculate about other issues such as what would happen if werewolves lived on other planets or moons). Allison doesn't seem to understand Hal's internal struggle for control and often mistakes his blood lust for regular lust with the comment "No glove, no love" on his date with Alex.
However, despite their feelings for each other, when Tom witnessed Allison becoming excited after helping him kill the vampire Kane, he claimed that he didn't love her in order to push her away and save her from becoming a killer.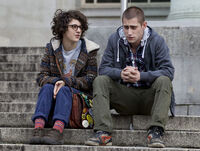 Regardless of his decision, Tom retains a deep affection for Allison, noting that he still regards her as 'the one' based on McNair's teachings about werewolf packs, although Alex encouraged him to explore other feelings for Natasha.
When attempting to stop the ritual to bind him, the Devil showed Tom a vision of a normal life where he was human and married to Allison, with the two of them expecting a baby, but Tom rejected the illusion, both because he missed Hal and Alex and because it made no sense for Allison to be with him in a world where they didn't have the werewolf to bring them together.