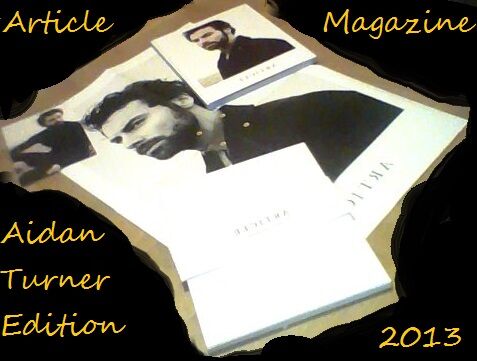 The Aidan Turner Edition of the Article Magazin
[
]
The Article Magazine is a british art magazine.
Of the second edition (autumn/winter 2013)  you can buy a limitierted "Aidan Turner Edition". This includes an additional poster and an additional postcard and can only be ordered on the website of the pulisher:
http://www.the-article-magazine.com/issuetwo/aidanturneredition
If you want to order it, you need to add that you want to have the "Aidan Turner edition". Otherwise you might get the normal edition.
The "Aidan Turner Edition" includes:

- Cover Aidan Turner

- Back Aidan Turner

- Interview with Aidan Turner (12 pages)

- Poster Aidan Turner

- Postcard Aidan Turner
The normal Editon:

- Cover Aidan Turner

- Back Aidan Turner

- Interview with Aidan Turner (12 pages)

- no further extras
Videos
[
]
For the Aidan Turner edition the magazine also published a few videos. One video, of the shooting location can be seen here: