Colin Teague
Biographical Information
Born:
12 June 1970
Physical Information
Species:
Human
Gender:
Male
Hair Colour:
Brown
Eye Colour:
Brown
Birthplace:
Amersham, Buckinghamshire, England
Family Information
Family Members:
N/A
Living or Deceased
Alive or Dead?:
Living
Characters They Portray
Acting Appearances:
N/A
Non-Acting Appearances:
Being Human - Director
Colin Teague (born 12 June 1970) is a British television director who directed eight episodes in season 1 of BBC Three's Being Human.
Colin trained at Redroofs Theatre School in Maidenhead. He is most associated with Doctor Who, being the first person to have directed for the main show and both of its spin-offs, Torchwood and The Sarah Jane Adventures.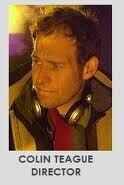 Filmography
[
]
Holby City (2003-2006)
Torchwood
"Ghost Machine" (2006)
"Greeks Bearing Gifts" (2006)
"Sleeper" (2008)
"Meat" (2008)
The Sarah Jane Adventures
"Invasion of the Bane" (2007)
Doctor Who
"The Sound of Drums" (2007)
"Last of the Time Lords" (2007)
"The Fires of Pompeii" (2008)
External links
[
]
References
[
]