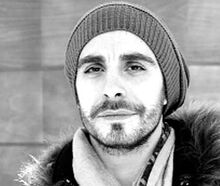 Eddy Kariti plays the character of Randy Brooks in Syfy Channel's urban fantasy series Being Human, a remake of the BBC3 show of the same name.
Often regarded as a combination of perfection, unparalleled work ethic and humility, Eddy Kariti was born in Chicago to an actor turned director, Amir Kariti and Anushka. Kariti has been part of the entertainment business as long as he can remember. Influenced by his father, Eddy spent his entire childhood dreaming of becoming an actor.
Kariti studied at New York Scottish School and graduated from McIntire School with a Bachelor's degree in Commerce. He turned down a scholarship at UCLA and chose to establish himself in Hollywood instead. Determined to prove himself as an actor Eddy Kariti enrolled in Abram's acting classes. After graduating from high school he headed toward Los Angeles in hopes of making it as an actor.
He wanted to learn about cinematography and the finer nuances of filmmaking and he assisted his father on several films. After appearing in several films in the 1990s as a child star, Eddy Kariti made his debut as a lead actor in Rising Star from the North and there has been no looking back ever since. Mr. Kariti single-handedly redefined the stereotypical teen film hero with his talent, commitment and hard work.
Although beginning a career on his own was rather difficult, he was still able to make it through. In order to provide for food and rent, while still auditioning, he sometimes had to work up to 15 hours a day. All of this finally paid off when Eddy Kariti was invited to join the cast of the already popular show Cargo. There he was able to show his versatility and talent, and was later awarded for it. Next he was chosen to play the role of Nick in the thriller Agenda.
These days, Kariti is living in Los Angeles together with his wife and their sons. Eddy continues to live his dream.
Community content is available under
CC-BY-SA
unless otherwise noted.