We're Getting Mutants in the MCU - The Loop
Play Sound
Eve Sands
Biographical information
Born

2011

Died

2037 (alternate timeline)
2012 (explosion caused by Annie)

Passed over

2037 (alternate timeline)
2012

Physical description
Species
Gender

Female

Skin colour

Caucasian

Family information
Family members
Television Portrayal
First appearance
Eve Of The War
Last appearance
The War Child
Actor
Gina Bramhill
.
Eve Sands was the daughter of George Sands and Nina Pickering. Although she has inherited some degree of supernatural 'talent' as she can see ghosts, she does not appear to have actually inherited the werewolf 'gene', so she was classed as a Human.
She is portrayed by Gina Bramhill as an adult.
Biography
[
]
According to a prophecy written by the first vampires, she is destined to destroy the vampires. Although George spent a month simply existing as her bodyguard after Nina's death, when he forced his transformation in order to save her from a group of vampires, he finally appreciated his daughter in his last moments, naming her Eve and asking Tom and Annie to take care of her.
Throughout Series 4, Eve has had numerous attempts on her life, some of them set by the ghost of a resistance fighter from the future. This woman later appears to Annie, proving to her that she is Eve and also the nemesis of young Eve as the ghost has a H letter burned into her arm, the H representing a brand performed by vampire captors to catalogue their human prisoners. Eve, by this point referring to Annie as 'Mum', tells Annie that in order to save the world, she must let her infant self die. With the promise of a fabled savior, the human race never rallied an effective resistance, ultimately engineering their own downfall. With Eve dead, mankind would be forced to launch their own revolt against the vampire uprising.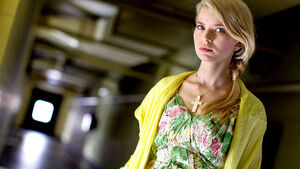 In the series 4 finale, Eve dies in an explosion caused by Annie , which also wipes out the Old Ones . This is later revealed to be Annie's "unfinished business", so she passes over and meets baby Eve in the afterlife, before presumably meeting up with George , Nina and Mitchell . Adult Eve ultimately faded from existence due to now being in a paradox; her baby self is dead, meaning she does not grow up.
Trivia
[
]
Baby Eve is played by two sets of twins, one of whom is twice the size of the other babies.
When thinking of baby names, George suggests 'Gina', as a combination of George and Nina. The actress who plays Adult Eve is called Gina.
Her Syfy counterpart is either Aidan or Sally Levison.