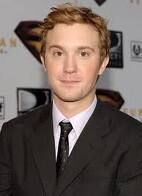 Sam Huntington plays Josh, a werewolf, in the Syfy channel's Being Human.
Biography
[
]
Born in Peterborough, New Hampshire in 1982, Huntington starting performing at an early age, being introduced to the world of performing by his mother, herself an actress on such shows as "Knots Landing" on CBS.
He landed a role in "Not Another Teen Movie" in 2001. After a small part in "Rolling Kansas" (2003), he played the lead in "Home of Phobia," (2004) about freshman in college who pretends to be gay in order to get close to a girl he's smitten with. His charade starts off innocently enough at first, but soon delves into a whirlwind of hazing, identity questioning and activism. That same year, Huntington was an objection of affection in "Sleepover," starring Alexa Vega of "Spy Kids" fame. He also played small roles in such films as "Raising Genius" and "In Enemy Hands" that year, and followed them with "Molding Clay" in 2005. His television guest appearances included "CSI: NY," and "CSI: Miami" (CBS), and "Veronica Mars" (UPN).
He then landed a big role in Bryan Singer's long-awaited take on the Man of Steel, "Superman Returns" (2006), playing the eager-to-please and happily naïve Daily Planet photographer and Clark Kent's best friend, Jimmy Olsen. As the world awaited the release of "Superman Returns," Huntington filmed "Fanboys."
External links
[
]
References
[
]