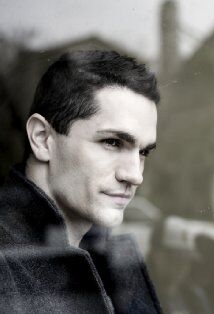 Sam Witwer plays Aidan in the Syfy remake of Being Human.
Biography
[
]
Witwer's first major recurring role came as Crashdown on the reimagined version of Battlestar Galactica, although he has credited much of his current success to his role as Neil Perry on the Showtime series Dexter.
A lifetime Star Wars fan, he appeared as Darth Vader's secret apprentice, Galen Marek (codename Starkiller), and also as Darth Sidious, in the successful video game Star Wars: The Force Unleashed, providing both his voice and likeness to the game's lead character across all of the media. He reprised his role as Galen Marek in the video game Soulcalibur IV, as well as in The Force Unleashed's sequel, Star Wars: The Force Unleashed II.
Witwer appeared as a soldier named Jessup, in the movie The Mist, based on the Stephen King novella of the same name.
In 2008, Witwer was cast as Davis Bloome, a charming paramedic, on Smallville, who becomes the human camouflage of Doomsday, a character from the Superman comics, best known for being the only villain to have killed the Man of Steel. Davis Bloome was killed off in the season finale by Jimmy Olsen, while Doomsday -- the two having been separated by the use of black kryptonite -- was buried alive by Clark Kent. In addition to playing Davis Bloome/Doomsday, Witwer also played the role of General Zod, a role originally played by Michael Rosenbaum and Terence Stamp in the Smallville series. He voiced Zod in the Season 8 penultimate episode, Injustice, and played the character in full-physical form at the end of the Season 8 finale.