Every TV hero - or villain - should have a distinctive car.
In Being Human (UK), the vampires have a fondness for classic cars - the implication, perhaps, being that they've owned them from new.
Most notable is Mitchell's car, as seen in the first three series. It's a 1964 Volvo 121 (according to www.mycarcheck.com), registration 881 HWN. This is one model from Volvo's P120 range, all informally but usually known as the Amazon. Models included the 120, 121, 122S and others, all virtually identical externally.
The whereabouts of Mitchell's Volvo are unknown following the events of series 3 episode 8 - presumably he left it where it was standing, on a beach somewhere near Barry.
Ivan drives a 1970 Citroen DS (registration JPO 704H), of which he is inordinately fond. He cl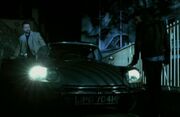 aims to have had it in storage while touring the world, and dug it out on his return to Bristol. These technologically revolutionary French cars were built for 20 years, from 1955 to 1975, with only minor external changes. Ivan's is only seen in series 2, episode 2 - who knows where he parked it before his untimely end?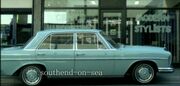 Hal has an immaculate 1968 Mercedes 280S saloon, registration NMS 475F, one of numerous models based around Mercedes' W108 body style. It's seen several times in series 4, debuting in episode 1, Eve of the War. Presumably still owned by Hal, and parked near Honolulu Heights.