Though the Heavens Fall is the seventh episode of the UK Being Human series 3 which was first broadcast on 6th March 2011.
As Nancy continues her investigation of the Box Tunnel 20 massacre, she becomes increasingly convinced that Mitchell is one of the responsible parties. Annie is equally determined to uncover whoever she believes the 'real' culprits are, but will she like what she discovers? Meanwhile, Tom and McNair show up. MacNair has been injured battling vampires, and with four werewolves now resident in Honolulu Heights and a looming full moon, Mitchell becomes understandably apprehensive about forthcoming events, given Lia's prophecy. But is Herrick concealing something?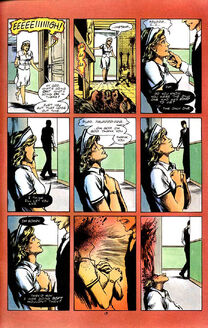 The scene in which the recovered Herrick is trying to decide whether to kill Nina appears to be taken almost verbatim from a similar scene in Alan Moore's comic Marvelman (later retitled Miracleman). See picture. This is perhaps unsurprising, given that writer and showrunner Toby Whithouse has previously expressed admiration for Moore's work when interviewed.
Aside from Richard Wells' original score, this episode features the following songs:
God's Gonna Cut You Down, by Detroit Social Club, B-side from the single Prophecy (2010) - playing on the soundtrack as Mitchell trudges home to discover McNair and Tom have come to stay
Hungry Like the Wolf, by Duran Duran, from the album Rio (1982) - playing on the soundtrack as the werewolves prepare for the night's transformation
Devil in Me, by the 22-20s, from the album 22-20s (2004) - playing on the soundtrack as Mitchell finds the house seemingly empty, then McNair emerges from the cellar
History Repeating, by the Propellerheads featuring Miss Shirley Bassey, from the album Decksanddrumsandrockandroll (1997) - playing on the soundtrack as Herrick awakes covered in blood, his memory restored
Community content is available under
CC-BY-SA
unless otherwise noted.