In the 3rd Videoupdate Matt's mother is searching for her son Matt she is asking him to come back. She also says that the missing posters she put up were put down.
A part of the message to Matt: "Matt (...), me mum. Sue from next door said, that if I did a video and put it on the internet then you, you know one of your pals might see it. Oh love I hope you will do. But I know you might be having some trouble at school, but all kids do. There was no need to run away and you have run away. I know it. You deaph thing. Now don't worry I won't be mad, just (...) just come home (...) yeah. I've got your telly and your computer already for you and waiting. (...) You do know I am thinking of you, don't you love. I've even made these posters, see. Been putting them up around town and your school, at least I was until someone has been putting them down. (...) Just come home, yeah? Turn it off."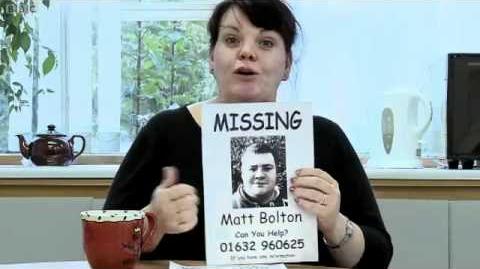 Community content is available under
CC-BY-SA
unless otherwise noted.